Mar 24 2018
By Meera Kamal
There are numerous occasions in your life when you have to say 'No'. But, when it comes to relationship, we often get's reluctant or hesitant in certain situations. This will depend on how long you need the person in your life. Remember one thing, if a person really loves you and wants to be with you forever, a 'No' will not change the status of your relationship. It may enhance your self-esteem and your partner's regards about you.
This is a list of situations where you should be bold enough to take a stand for yourself.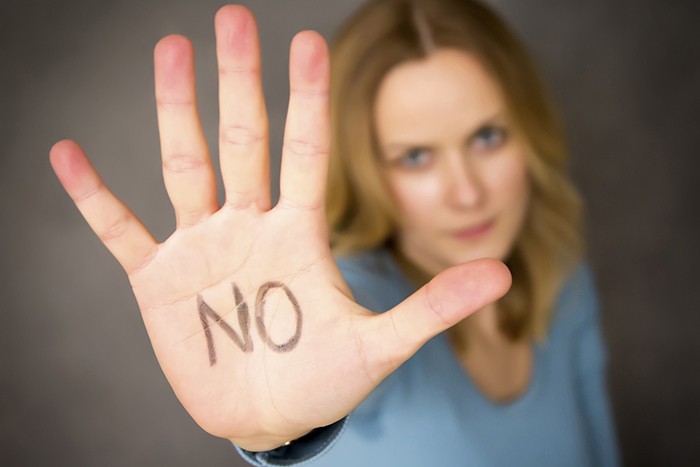 Wrong Touch
Whether he is your boyfriend or husband, if you are not comfortable, you should say 'No'. Consent is something important in any relationship. Just because you are committed and you need to sustain that person in your life, never keep quiet or put yourself in a place where you are not comfortable. This is applicable in all other relationships too. Whether it is a family member, friend or stranger, you should have the courage to say when you are not interested.
Verbal Abuse
Never allow a person to verbally abuse you, just because he is not physically harming you. Verbal harassment is as worse as physical assault. Especially if you are in a marital relationship and your partner keeps abusing you, it's time you raise your voice for your rights. Also, loose comments in social media should not be treated lightly and ignored. No one should be allowed to get into your dignity.
Casual Flirting
If you think that casual flirting to some extent in office is okay, you are wrong. You are not expected to answer those late night calls or reply for sexting. You can always refuse communication after office hours, if unprofessional. If you keep silence, it may give a wrong interpretation to that person who does it that you that you are interested for more. You need not encourage private relationships in official situations.
Toxic Relationships
Do not cling on to those relationships in which you are never happy. A better future is just a hope. If your today is bad, tomorrow may be worse. People who broke your trust should not be allowed to repeat their mistakes. Those people who have created that dose of depression in your life should be flushed out as soon as possible. Keeping such people in your life is going to add complexities in your life.
Excuses
Learn to say 'No' to yourself which is very important. Those excuses you keep saying yourself for not taking care of yourself, for not working out, for not being happy and a lot more. It is as essential as saying No to unlikely conditions. You should not fool yourself and stay unhappy. The key of your life is with you. Do not play the blame game and convince yourself that you cannot improve. Excuses and procrastinations should be your worst enemies. Saying a Big 'No' in these 5 things can make you a better person.